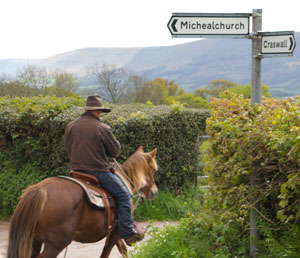 > Call Us 01981 510269
You are welcome to contact us by phone. 
           If you get our answerphone please do leave a message, your name & number. We spend a lot of time out with the horses and will call you back within 24 hours.
> Email Us:
john@horselistener.co.uk

> Become a Facebook fan:
facebook.com/horselistener

> We're on Twitter:
twitter.com/horse_listener

> Postal Correspondence & Visiting Us
Black Hill Horse Training, Old Shawls Farm,
Craswall, Herefordshire, HR2 OPW
---
Black Hill Horse Training is based in Herefordshire, try switching the map below to the 'Satellite' view and zooming in to see our wonderful green surroundings!

Black Hill Horse Training