Welcome to Black Hill Horse Training
John Jones is a natural horseman who aims for lightness and clear communication between horse and rider.
Helping both horse & owner together with
patience
and
understanding
.
Come on our courses situated in the magical Black Mountains with or without your horse & reach another level with gentle horsemanship.
Look around the website or phone
01981 510 269
to find out how we can help.
---
Here are the latest comments on our facebook page about our courses:
http://www.facebook.com/horselistener
"Thanks to John @ Daisy for a fabulous weekend, your both an inspriation to believe that if we just take our time and listen to our horses, then the world could be a better place, for both horse and rider. Thank u,,, see u soon. Rose xx"
"Thankyou John & Daisy for such a lovely weekend (horse & owner weekend) brilliant
xxx"
"Amazing weekend thanks to John and Daisy. Can't believe the difference in Rosie absolutely brilliant. Thank you for everything. Katy and Rosie xx"
Keep watching the website for new dates or phone for more info
Horsemanship Course Dates:
For the latest dates of our Horsemanship Courses please go to the contact page, the booking form and dates are on the drop down bar.  All One to One Courses are arranged to suit you and can be in the week or weekends.
Horsemanship courses that will help you achieve your aims and goals
We can arrange dates to suit you, feel free to phone to chat in more detail about the courses.
Book now to save your place  Tel;

01981 510 269
Phone 01981 510 269 to talk to John about the courses in more detail and how we can help you and your horse together.
See you soon:)
Another fun set of private courses run in France.   John taught Adults and Children working on lightness both on the ground and ridden work.  Here is some feedback from last weeks course:
Last night as we were leaving your place I said to Kennedy in the car, did you enjoy today? and she replied "Mom today was the best day of my life, EVER". . I thought John would be interested to know.  I too thought that my 2 days were some of the more enlightening moments of my life  – so as far as the Timms are concerned we more than got our money's worth and couldn't be happier.  We both would like to extend a heartfelt thank you to Jonh and to You Susannah for all your enormous effort and thought and planning that went into this event.   We now have a dedicated piggy bank at home to save up for for next time.
joc   xxx
We are having a fantastic time at Old Shawls Farm on the horsemanship courses. Meeting wonderful people and horses,  helping horses and people together and having fun too.
Don't miss out, bring your friends and family and have a unique experience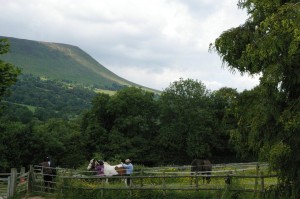 No problem if the dates listed are not suitable we can arrange one to suit you.
We look forward to seeing you at Old Shawls farm for fun and total immersion in horses.
Welcome to our new website, bringing together our horse training information and photographs, with our latest tweets we have some fantastic new courses for you!

2 Day Course – Horse Listening Skills
2 Day Courses –

Starting the Young Horse

(can be a 4 day if required)
2 Day Course -

Horse & Owner

(can be extended to 4 day if required)
2 Day Course –

Wild Horse Workshop

(Handling the Untouched Horse Course)
Please feel free to phone or e-mail us or
phone 01981 5102 69 to talk to John in more detail about the courses and how we can help you.
We look forward to seeing you soon.
Unlock the Secrets of Gentle Horsemanship